General Esteban Huertas
- A Colombian Officer -
( 1876 - 1943 )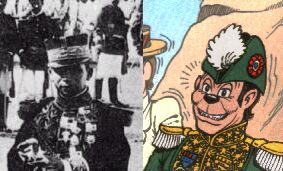 * List of the stories and drawings he appears in :
- F PM 01201 C : "The Sharpie of the Culebra Cut" (Lo$#10b), from 2001, by Don Rosa ;
- FC PM 349D : "Les Inédits de Don Rosa #33" (an illustration for "The Sharpie of the Culebra Cut"), from 2001, by Don Rosa ;
- IC ZP 148B: a cover illustration for "The Sharpie of the Culebra Cut", from 2002, by Marco Rota.
* His biography :
Born in 1876 in Umbita, Boyacá, Colombia, Esteban Huertas was a precocious child : he ran away from his home to join the army when he was only eight years old; by the time he was fourteen, he was a second-class sergeant and had received numerous decorations for bravery under fire. He lost his left arm, mangled on December 1900 while he fired his canon during the civil war, so he had a wooden prothesis. For his bravery, in November 1902, at the age of twenty-six, the petite soldier was promoted to general.
The conspirators knew that General Huertas loved Panama. He had married the daughter of a distinguished local merchant who bore him a son on October 5. In early October, when the conspirators were mulling over their plans, to get Huertas to agreed, they circulated rumors that the general was being relieved of his command, and that he was going to be sent to the volatile and unpleasant interior of Colombia. Under this pretext, Amador tried to convince Huertas to join the independence movement.
To support the Panamanian revolution, Huertas had to arrest the loyal Colombian generals. He received a small fortune for his participation in the bloodless revolution that freed Panama.
He died in Panama in 1943.

* His place in the Barks/Rosa stories universe :
Actually, Don Rosa didn't use General Esteban Huertas : he made a villain out of a hero, so he made up a character with that first name as the last name (this explain why the character he used has his two arms).
General Esteban "El Magnifico" appears as an enemy of Thedore Roosevelt in 1906 in "The Sharpie of the Culebra Cut", who tells him that his president, Amador Guerrero, is honoured of his visit, but who wants in fact become a dictator and lies in wait for the least mistake in the respect of the treaties to take possession of Panama. In the same story he finally is knocked down by the Guaymi Chief Parita, while trying to steal a part of a Panamanian treasure Scrooge and Roosevelt just discovered, and is sent back to Colombia.
He also appears in "Les Inédits de Don Rosa #33", by Don Rosa, and another illustration by Marco Rota, which illustrated this story.
>>>Back to the real life's characters page
>>> Back to the main page