John F. "Big Smoke" Stevens
- A Chief Engineer of the Panama Canal -
( 1853 - 1943 )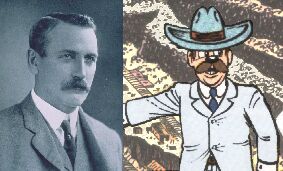 * List of the stories he appears in :
- F PM 01201 C : "The Sharpie of the Culebra Cut" (Lo$#10b), from 2001, by Don Rosa.
* His biography :
Most people think Col. George Washington Goethals built the Panama Canal. But the canal had two other fathers before him. The first was John Findley Wallace, a prominent railroad engineer appointed in 1904. He was succeeded a year later by John F. Stevens, the man who really got the massive but bogged-down job organized, equipped and finally on track. Goethals, his successor, had only to carry on.
John Stevens inherited the job after Wallace could no longer take the rugged site conditions. Although he was mindful of U.S. President Theodore Roosevelt's orders to "make the dirt fly," Wallace was accustomed to working under civilized conditions. Using equipment the French had left behind when they abandoned the project in 1889, Wallace did start digging the canal, but soon found Panama squalid and riddled with malaria and yellow fever, which he feared. Additionally, the Panama Canal Commission had to approve even the smallest decisions through a lengthy process. After a year, beset by health concerns and bureaucratic woes, Wallace resigned.
John F. Stevens was named Chief Engineer of the Panama Canal in 1905. He was one of the most experienced railroad builders in the United States.
He already had spent his adult life building railroads on the U.S. Western frontier. No stranger to rough living, he had been chief engineer for the Great Northern Railroad during construction of its transcontinental line on the northern route. In his varied travels, he had been marooned in blizzards, attacked by Apaches and even treed by wolves.
A decisive and strong leader, Stevens took immediate control of all aspects of the work. He saw that disease was brought under control and was largely responsible for deciding to build a lock-type canal.
The Canal job was assigned on February 18, 1907, to the United States Army, in the person of Colonel (later General) George Washington Goethals. In a letter to his son, Colonel Goethals wrote "Mr. Stevens has perfected such an organization ... that there is nothing left for us to do but just have the organization continue in the good work it was done and is doing ... Mr. Stevens has done an amount of work for which he will never get any credit, or, if he gets any, will not get enough ..."
John F. "Big Smoke" (when he wasn't chain-smoking cigars, he was chain-chewing them) Stevens returned to the United States and railroading. In 1919 he was named President of the Inter-Allied Technical Board with headquarters in Harbin, Manchuria. His work completed, he returned to the United States in 1923 and retired from active life.
He was presented the John Fritz Gold Medal on March 23, 1925, for "great achievements as a civil engineer, particularly in planning and organizing for the construction of the Panama Canal; as a builder of railroads, and as administration of the Chinese Eastern and Siberian Railways." The Hoover Gold Medal was given him in 1938.
He was elected a member of the American society of Civil Engineers on June 6, 1888, and an honorary member on June 18, 1922. In 1927 he served as President of the Society.
He died on June 2, 1943, in Southern Pines, N.C.

* His place in the Barks/Rosa stories universe :
In 1906, in "The Sharpie of the Culebra Cut", he meets President Theodore Roosevelt (that's what he did in real life too), who is visiting Panama, to show him his work. He's just called Stevens in this story.



Photograph from "The Panama Canal Review", Nov. 2, 1956.
Grouped around President Theodore Roosevelt (center, in a white suit) : John F. Stevens, Chief Engineer, left front; Mrs. Theodore P. Shonts, wife of the Chairman of the Isthmian Canal Commission; Joseph Bucklin Bishop, the Commission's Secretary; Dr. Presley M. Rixey, Surgeon General; Mr. Latta, a White House Secretary; Mrs. Roosevelt; Mrs. Stevens; and Mr. Shonts, Isthmian Canal Commission Chairman. The small boy is Donald F. Stevens, son of the Chief Engineer.
>>>Back to the real life's characters page
>>> Back to the main page